The governorship bid of Hon Chijioke Edeoga was bolstered on Tuesday with delegates from about six local government areas in Enugu State endorsing him.
Edeoga is the leading prospect to succeed His Excellency, Rt. Hon. Dr. Ifeanyi Lawrence Ugwuanyi.
Edeoga made a marathon campaign sprint across the local governments in Enugu North Senatorial Zone – Uzo Uwani, Nsukka, Udenu, Igbo Eze South, Igbo-Eze North and Igbo Etiti – where he received filial embrace.
The delegates, who came out enmass at the party local government headquaters pledged unaloyed support as they received Hon Chijioke Jonathan Edeoga and his Divine Train.
Addressing the delegates, Hon. Edeoga vowed to consolidate on developmental achievements and peaceful atmospher already in the state while thanking the governor of Enugu for granting aspirants the opportunity to interface with delegates across the area.
Describing Igbo Eze North as "the power base of politics in Enugu State", Hon Edeoga recalled that he started his political journey in the LG and assured them that they would never be sidelined under his tenure, if given the mandate.
"Your pain will be my pain, your joy will be my joy. I promise you before God and man, that I would not forget you, if you pray, support and vote me to become the governor of Enugu".
At Uzo Uwani, Udenu, Igbo Etiti, Nsukka and Igbo Eze South, Hon. Edeoga promised to humbly lead the people of Enugu state to Canan, the promised land.
The six local government party chairmen and their women leader counterparts were also on ground when Hon Chijioke Edeoga with the Divine Train interfaced with the delegate who drumed support to him.
In their addresses, they described Hon Edeoga as a humble fellow who would make a good servant leader and pledged undiluted suport to him during the forth coming primaries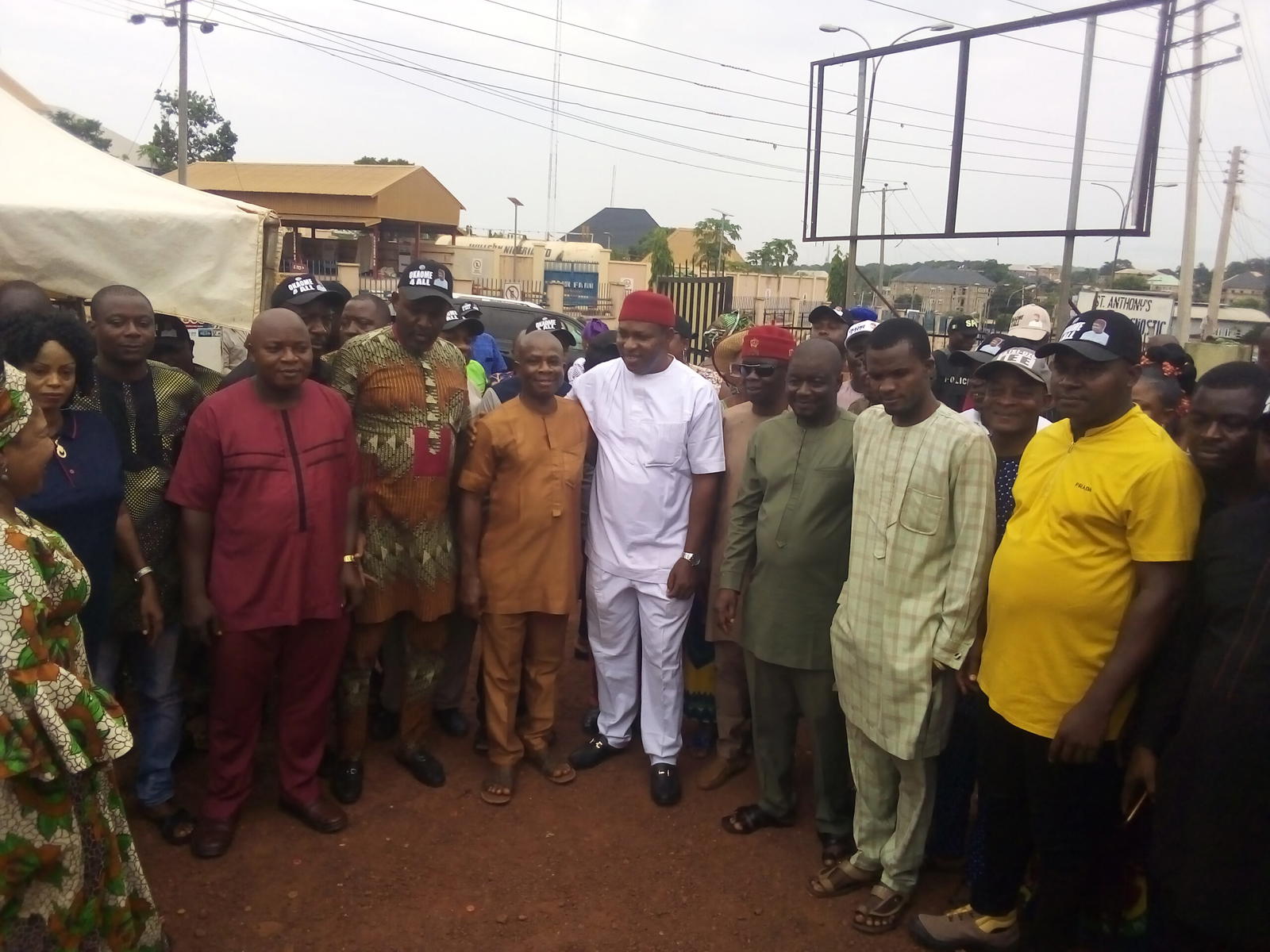 Edeoga not to be seated by enticement of money-bag-politicians, urging to stick to aspirants who would represent the interests of the people are voted in during the party primary elections.
Edeoga resigned as the Commissioner for Environment in the state to vie for the governorship position.
He assured the people that his government would consolidate on Governor Ugwuanyi's milestone in Nsukka if elected.
Edeoga who was equally a member of the House of the Representatives, thanked the party delegates for their warm reception and also lauded Governor Ugwuanyi for allowing aspirants the opportunity to interface with them across the state.
"I am an integral part of all Governor Ugwuanyi has been doing in Enugu State and things he would continue to do. Nsukka was documented as the major focus of his administration. Faithfully, he has delivered his promises to Nsukka and even went ahead to borrow to see that he does not disappoint you.
"I feel prepared to succeed Governor Ugwuanyi because I was part of all the major committees for the key projects of his administration."