An adult film actress has offered to pay Donald Trump the $130,000 in "hush money" she claims his lawyer gave her, in order to speak freely about her alleged affair with the president.
Michael Avenatti, an attorney for actress Stormy Daniels, sent a letter to the president's counsel on Monday telling him that Ms Daniels would pay back all the money she was given in exchange for the ability to "speak openly and freely about her prior relationship with the president and the attempts to silence her".
The actress also seeks to "use and publish and text messages, photos and videos relating to the president that she may have in her possession, all without fear of retribution or legal liability". She also hopes to allow the broadcast of her interview with 60 Minutes' Anderson Cooper.
Ms Daniels claims she and Mr Trump initiated a sexual relationship in 2006, shortly after his wife, Melania, gave birth to their son. The relationship, she claims, lasted well into 2007. Mr Trump has denied the affair occurred.
Mr Trump's personal attorney Michael Cohen has admitted to paying Ms Daniels $130,000 out of his own pocket in the months before the election – money she claims was tied to a nondisclosure agreement. Mr Cohen claims the president was not aware of the payment.
In a lawsuit filed last week, Ms Daniels alleged Mr Cohen had coerced her into signing a statement denying the relationship earlier this year. She also claimed the nondisclosure agreement was invalid because Mr Trump never signed it.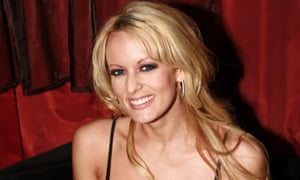 Ms Daniels – whose given name is Stephanie Clifford – is now offering to drop her lawsuit if the nondisclosure agreement is rendered null and void.
"As we have always said, this is about a search for the truth and the ability of Ms Clifford to tell the American people what really happened so they can make their own determination,'' Mr Avenatti said in a statement to the New York Times, who first reported the news. "Our offer proves this out."
Mr Cohen, meanwhile, has obtained a restraining order against Ms Daniels to prevent her from speaking out as the legal battle rages. An arbitrator found Ms Clifford had violated her nondisclosure agreement and barred her from filing her lawsuit, according to an attorney for Mr Cohen.
The decision lead White House press secretary Sarah Huckabee Sanders to declare that the case had "already been won".
"This case has already been won in arbitration, and there was no knowledge of any payments from the president, and he has denied all these allegations," she said in a press briefing.
Mr Avenatti said he does not consider the restraining order valid, and will continue with his suit.
"This should be decided publicly," he told the Times.