Gigi Hadid and Zayn Malik have called it quits after two years of dating.

"Gigi and I had an incredibly meaningful, loving and fun relationship and I have a huge amount of respect and adoration for Gigi as a woman and a friend. She has such an incredible soul," Malik tweeted in a note on Tuesday. "I'm grateful to all of our fans for respecting this difficult decision and our privacy at this time. We wish this news would have come from us first. We love you all."

Hadid also confirmed the breakup on Twitter.

"Breakup statements often seem impersonal because there is really no way to put into words what two people experience together over a few years..not only in a relationship but in life in general," she wrote. "I'm forever grateful for the love, time and life lessons Z and I shared. I want nothing but the best for him and will continue to support him as a friend that I have immense respect and love for. As for the future, whatever's meant to be will always be. x G."
 Fans suspected there could be trouble in paradise after the former 
One Direction
 band member posted a picture on Instagram with the caption, "When life throws you lemons, catch em so they don't hit you in the f–king face."
The Sun, which broke the story, also reported the couple had called it quits. The media outlet claimed the two star's busy work schedules were the cause of the breakup.

"Sadly, Zayn and Gigi have separated." a source told The Sun. "They have crazy work schedules that would put pressure on any relationship."

The 22-year-old supermodel and 25-year-old singer were last photographed together in January leaving Hadid's home. They had celebrated their two-year dating anniversary just a few months before.

"2 yrs w my favorite human," Hadid wrote in November alongside a photo of the two sharing a smooch.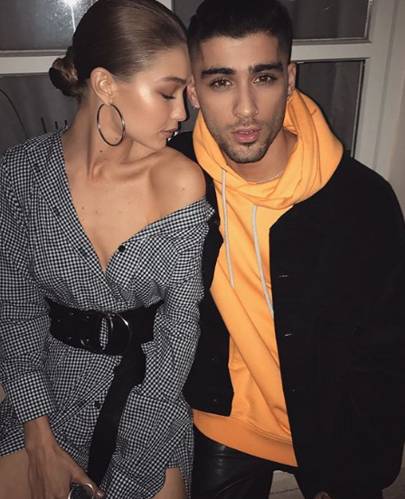 Hadid and Malik first sparked romance rumors in November 2015 after they were spotted leaving an American Music Awards after-party together. These rumors only intensified after Malik dropped a steamy music video for his hit "Pillowtalk" and Hadid starred opposite the artist. Still, the two kept fans in suspense until May 2016 when they made their first joint red carpet appearance at the 2016 Met Gala.

The two took a brief break shortly after the gala but rekindled their romance that summer. They had epitomized #RelationshipGoals ever since. The two spent holidays like Christmas, Halloween and Eid al-Adha together and even covered Vogue.

Despite their packed schedules and busy careers, the two managed to make time for each other and be their biggest fans.

"For the first time, we are both in a relationship where we have very similar interests outside of work and that is really important," Hadid previously told ES Magazine. "We cook a lot together and do art together and we're each other's best friends. We both feel we can talk about anything and learn a lot from one another."

Malik also spoke highly of Hadid.

"She's super intelligent; I think that's why it works so well," he told Elle U.K. "And we do the same type of job so we get that with each other."

Even with their high-profile romance, Malik didn't consider the two a "power couple."

"That's not something I want to be a part of," he told the Evening Standard last June. "I'm with her because I like her and I hope she's with me because she likes me. When we come home, we don't really talk about that s**t. We just spend time together as a normal couple, cook food, watch TV, have a laugh."

Everything seemed to be going well for the two lovebirds. In October, a source told E! News the two are "the best couple" and that they "truly love each other."

"They both are working on many different projects now and are pulled into a bunch of directions at the moment," the source said at the time. "Things can't be better with them though. Happy couple."

E! Online